As a parent or caregiver, we know you are always looking for ways to engage your children in activities that encourage learning and creativity. So today let's take it away from using technology and screens and back to those hands-on crafts and experiments! In this article, we will explore 10 fun and educational activities that you can do with your children.
These activities are designed to help your children learn while having fun. They are perfect for children of all ages and can be done at home or outside. Whether you are looking for ways to keep your children entertained during the summer, want to supplement their learning during the school year, or are filling their time before they can go to school, these activities are sure to be a hit.
Want your children to do these but you're unable to do it with them?
Hire a babysitter through

Babysitting Connection!

Their sitters are all vetted, verified, and are the best in the area!
Sidewalk Chalk Art 
A classic that never gets old, this activity is great for kids of all ages, but especially those who are still learning how to draw and write letters. Draw an image on the sidewalk for your child to copy, or let them come up with their own design!
It's a great way to spend time with your children since you can talk about what they're drawing, why they drew it, and how it makes them feel.
We love this Stained glass idea from Your Modern Family. 
Cupcake Math
Counting and math can be challenging for children, so why not make it fun?
Take some cupcake holders and write some math problems inside of them. Then, help your child to add pom poms (or even fun snacks!) into those and count the total. This activity helps children understand addition with items instead of just seeing numbers on a page.
How cute is this idea from 1234 Homeschool 4 Me?!
Building Shapes
Now this one is so much fun! You'll need only marshmallows and toothpicks to teach your child about all different shapes. You can create triangles, squares, hexagons and anything else. Then, feel free to take it to the next level and make 3D shapes like cubes and pyramids.
Want to make it an edible craft? Try using straight pretzels instead of toothpicks to connect each marshmallow.
Soap, Water & Pepper Experiment
Get ready for your children's jaws to drop with this one.
All you'll need is some water in a bowl, some pepper sprinkled on top (not too much but enough to see) and a finger dipped in dish soap. 
Once you have the pepper on top of the water, have your child dip their finger into some dish soap and place it in the bowl. Immediately, you'll see the pepper move to the sides of the bowl. The soap will lower the surface tension of the water and cause the pepper to run away from the finger.
Make reading an Interactive Experience
If you've ever tried to read a book with your child you might find it a little frustrating. Many children would rather be running around than sitting with you while you tell them a story. However, we can make reading more fun by inviting the child into the story!
Some ideas include:
Ask them what colors are in the illustration and if then have them go touch something in the room that's the same color.

If a character does an action, ask the child to do the same action.

Make each sentence, paragraph or page part of an active memory game. Start by having your child do an activity such as three jumps, then read a section of the book. After you complete that section, have your child do the first activity and then add-on another activity such as putting away a toy. Continue this until you have finished the book by adding on a fun and active task after each section. Your child will burn some energy, work on their memory, and complete a book!
Make sure to let your child know that after each activity, they have to return and sit down to read the next part of the book.
Play Easy Board Games 
When we say easy board games, we mean Candy Land, Snail's Pace Race, and Chutes and Ladders. These are great ways to learn colors, numbers, and spend time away from a screen while inside.
Another benefit to playing board games is teaching children that it's okay not to win and that they can always try again. Prepare them ahead of time that they may not win and let them know that it is not a reflection of their self worth. If you have time, you can even tell them that you are willing to play until they win so they learn about persistence!
Nature Walk Cardboard Vase Activity
If you live in an area with flowers, let's get the kids outside to explore nature and go on a walk with this Cardboard Vase craft.
It is super easy and all you'll need is a piece of cardboard, something to poke small holes into it and a marker to draw the vase. We encourage you to let your child draw their own vase. Let it be a crazy shape or just a circle, it's entirely up to their imagination.
Once the vase is drawn, poke some holes that your child will stick their flower stems through. All that's left is to take a walk and fill up the vase!
Make Bookmarks with Pressed Flowers
A craft that encourages nature and reading?! That's right. This is one of our favorites and it's so easy. It does take some time and planning though (at least two days for the flowers to press).
Here's how to do it.
Pick your favorite flowers or even find some leaves you want on your bookmark.

Place them in a book to press them down for 2+ days.

Place weight on top of that book to help flatten the flowers/leaves. This could be even more books or anything else!

Cut two strips of contact paper to the preferred size of your bookmark.

Remove the backing of one strip and stick your flowers/leaves to it.

Remove the backing of the other strip and cover your flowers already stuck to the first strip.
Paper Plate Crafts
Have fun decorating and make some paper plate crafts! Ask your child which animal they would like to create and if they'd like help doing it. Sometimes they want to draw/paint on their own and other times they'll want you to be involved with any cutting and shaping.
Rubber Duck Math Race
This one is great for toddlers up to kindergarteners who are learning to count! You'll simply need a die, squares (or anything similar to make the track) and then an item to move along the top, like a rubber duck.
Lay out the track, roll the die and allow your child to move the rubber duck that many squares. Then it's your turn! The goal is to see who can reach the end of the track first.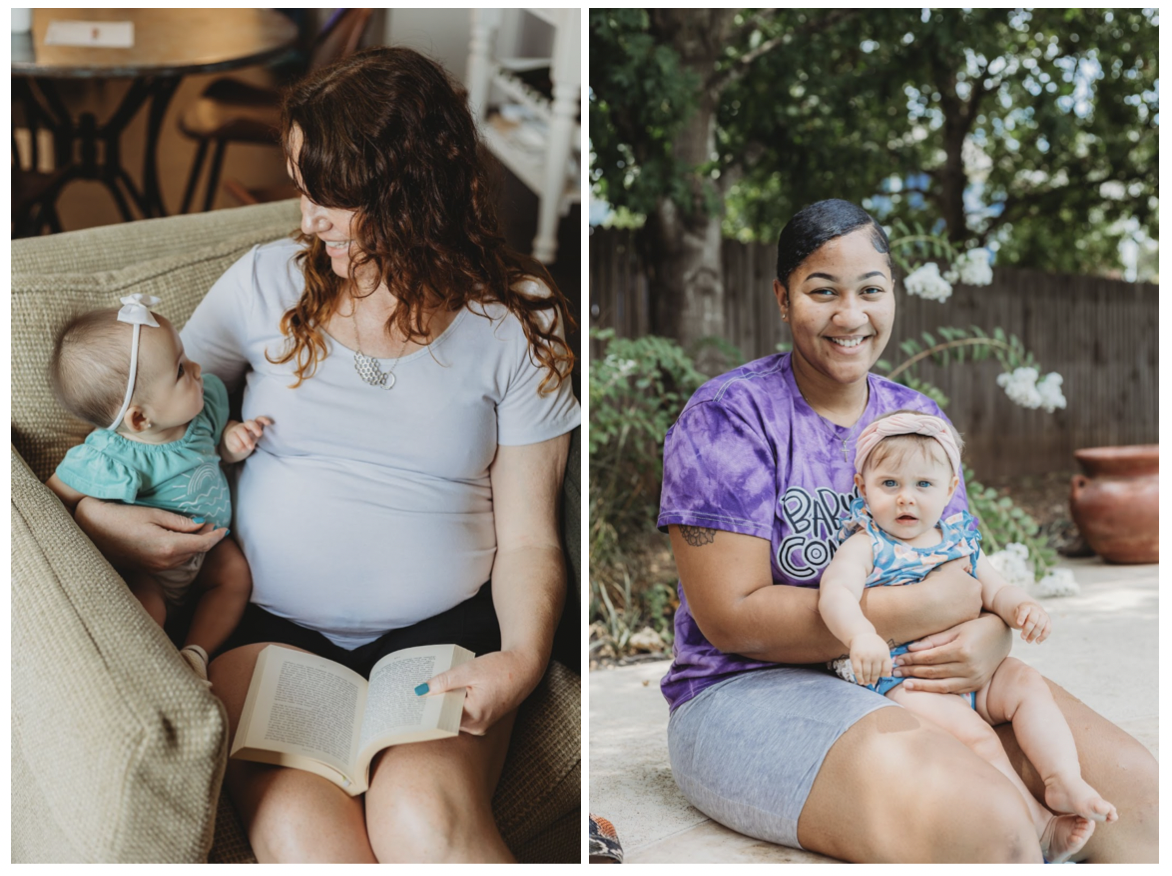 Babysitting Connection was founded in 2020 in Austin, TX and began expanding to other Texas cities in 2021. They have booked over 30,000 sits, have more than 250 vetted sitters on their roster, and now have 5 amazing women working behind the scenes.
At Babysitting Connection, They provide their members with a wide array of sitters from a variety of backgrounds with a variety of experiences.
Have a pool and looking for a sitter who is a lifeguard or swim instructor, they've got you covered. Does your kiddo love art? They have sitters who do too! Worried about proper care of breastmilk? They have sitters who have experience with that also.