Alodia Basketball Summer Camps will elevate your child's game and confidence! Practice the fundamentals, learn new skills, meet new friends, all while having fun with the best trusted and dedicated coaches in the North Houston area!
Ages: Kindergarten – 8th Grade
Locations: Creekside Park Junior High (The Woodlands) & Salem Community Center (Tomball)
Times: Half Day (8:30am-12pm or 1-4:30pm) or Full Day (8:30am-4:30pm)
Dates: Weekly, May 30th – Aug. 10th, 4 Days/Week
Alodia Basketball Academy has provided world class basketball camp experiences for over 14 years and over 300 camps. Five-star rated camps for quality & customer experience, tested & proven camp curriculum, dedicated & trusted coaches, low coach to camper ratio, great value. Several camps to choose from: Shooting camp (2,000 shots in 4 days), Competition camp (12 games in 4 days) & Total Player Camp (elevate overall game). With 2 LOCATIONS TO CHOOSE FROM…WHY go anywhere else?
For more details and to register, visit AlodiaCamps.com
Meet Texas' favorite summer camp! With one, two, and three week sessions and over 45 activity choices, Camp Olympia is the ultimate overnight camp experience for boys and girls ages 6-16. Located 95 miles north of Houston, Camp Olympia provides the perfect setting for fun and adventure along Lake Livingston in the Pineywoods. Campers make friends and gain independence while building teamwork and leadership skills through a customized camp experience and counselor mentorship.
Camp Dates/Prices:
Term 1: May 28 – June 10 (14 days) – $4,450
Term 2: June 11 – July 1 (21 days) – $5,575
CLP Term 2: June 11 – July 1 (21 days) – $6,670
SPARK Week 1*: June 11 – June 17 (7 days) – $2,285
Term 2B: June 18 – July 1 (14 days) – $4,450
Term 3: July 2 – July 22 (21 days) – $5,575
CLP Term 3: July 2 – July 22 (21 days) – $6,670
SPARK Week 2*: July 2 – July 8 (7 days) – $2,285
Term 3B: July 9 – July 22 (14 days) – $4,450
Term 4: July 23 – August 5 (14 days) – $4,450
Set on a private lake in the midst of the East Texas Piney Woods, Camp Fern Legacy is a sleep-away summer camp for children ages 6 to 17. We set the stage for our campers to get outside, make lifelong friends and memories while learning skills that will carry them through life. Sessions are the perfect size with enough campers to make new friends and continue to keep the old. Smaller sessions mean we are able to know each camper and his/her interests individually to maximize their summer experience. Your kids' home away from home this summer, immersed in nature, an adventure awaits!
Location:
1046 Camp Road, Marshall, TX 75672
Contact:
Phone: (903) 742-4321
Email: [email protected]
Dates:
Girls Camp
4 Weeks: June 4-July 1
2 Weeks: June 4-June 17
2 Weeks: June 18-July 1
Boys Camp
4 Weeks: July 2-July 29
2 Weeks: July 2-July 15
2 Weeks: July 16-July 29
Summer 2023 Coach Deon is offering 4 sessions of 4-day basketball camps in The Woodlands starting June 5th ending the week of July 10th. Our Summer Basketball Camps are weekly camps full of fundamental skill training, competitive games, and fun in a positive environment led by an experienced coach.
Players can attend full day sessions or choose between morning or afternoon sessions. Grades 2nd – High School. Players are grouped according to age and skill level.
Location: The Woodlands Methodist School, 1915 Lakefront Circle, The Woodlands, Tx 77380 & The Woodlands Sportsplex 25127 Gosling Rd The Woodlands , Tx 77382
Dates:
Session 1 June 5th – 8th
Session 2  June 19th – 21st
Session 3 June 26th – 29th
Session 4 July 10th – 13th
Grades: 2nd — High School
Contact:
Coach Deon
Phone: 985.628.2847
Email: [email protected]
Art Camps at Cordovan Art School have been voted the "Best Art Camps in Houston"! Kids 5-16 will embark on an awesome creative adventure in over 40 fun-themed weekly camp adventures which include: Video Game Art, Talk to the Animals (with live animals), Super Heroes & Villains, Fantasy Art, Space Art, Sea Life, Anime, and more. Kids will experience the use of clay, watercolor, acrylic, pottery, pastels, paper mache and mixed media. The measure of Cordovan's success is in the happy, smiling faces of kids enjoying their creativity and their imaginations!
4 Locations: Spring, Katy, The Woodlands, Sugar Land
Weekly Summer Camps: May 30th – Aug.17th
Ages: 5-16
Contact:
Phone: 281-645-6580
Email: [email protected]
The Ultimate Creative-Tech Summer Camp! Hands-on media classes in Filmmaking, Animation, YouTube Production, plus AI Camp, game design, and Minecraft Modding. Ages 6-13. 2-Day to 5-Day camps. Win an Oscar!🏆
Ages: 6-13
Times: 8:30am-3:30pm
2 Locations:
5655 Creekside Forest Dr, The Woodlands, TX 77389
25005 Northcrest Dr, Spring, TX 77389
Contact: 713-417-9025
Our in-person, hands-on camps are designed specifically for students aged 6-13, offering them a unique opportunity to learn from college-level instructors and create their very own projects in real-time. At our 3-day creative camps, students will unleash their imagination and turn their wildest ideas into reality. With each day, you'll be amazed by the new film or animation they created, learning from real industry techniques and creating special effects, green screen effects, claymation, Lego animation and more. On the last day, Creator Camp will transform into a mock Oscars film festival, where students get to show off their best films on the big screen to compete for the title of best picture! For the tech enthusiasts, our 2-day camps are designed to provide students with an exciting introduction to the world of technology. Whether it's learning how to code by modding minecraft, creating an AI from their own machine learning Models, or developing video games, our highly-skilled instructors will make learning tech fun and inspiring. With the latest technology at their fingertips, they will be able to create projects that they'll be proud to show your friends and family. Join us at Creator Camp this summer, and explore your creativity!
If you are looking for a summer camp for your child(ren) that is both educational as well as active, you have found the right place! Kiddie Academy® is proud to present CampVentures®, which provides children and teachers the opportunity to spend their summers exploring their connection to the world around them. Our daily schedule focuses on keeping our Campers (School Age Children 5-12 Years of age*) as active as possible, but also giving our Campers an opportunity to relax, have some fun and do a little bit of learning along the way.
Location:
Kiddie Academy of Woodforest
740 Fish Creek Thoroughfare
Montgomery, Texas 77316
Ages: 5-12
Price: $250/week/child + one-time Summer Registration & Activities Fee of $175/child
Dates:
May 29 – June 2
June 5 – June 9
June 12 – June 16
June 19 – June 23
June 26 – June 30
July 3 – July 7
July 10 – July 14
July 24 – July 28
July 31 – August 4
Contact:
Phone:  936.447.KIDS (5437)
Email: [email protected]
The Greatest Show Day Camp
"The Greatest Show" day camps are offered for ages 6-12 and will feature songs from The Greatest Showman. NYT's youth musical theater day camp will feature great choreography, exciting drama, fun songs, and lots of fun summer camp games. These 5-day musical theater camps run Monday through Friday, 9 a.m. to 3 p.m. with Broadway-style theater instruction combined with fun and games.
Summer Camp Coordinator: Jessica Kotrla
Email: [email protected]
832-510-7794
Dates & Locations:
JUNE 5-9
Freedom Church, 8103 FM 1488 Road, Magnolia 77354
JUNE 19-23
Church Project, 602 Pruitt Road, Spring, 77380
JUNE 26-30
Conroe Bible Church, 4491 Interstate 45 N, Conroe 77304
JULY 10-14
Concordia Lutheran High School, 700 E. Main Street, Tomball, 77375
JULY 17-21
Faith Bible Church, 5505 Research Forest Drive, The Woodlands 77381
JULY 24-28
Restoration Church, 107 Fish Creek Thoroughfare, Montgomery 77316
Cost: $165 early-bird registration (includes pizza on Friday); $190 after May 1
Songs from Grease Teen Camp
Teen Camp is an all-day camp for teens ages 13-19. Camp will consist of six amazing days of theater, singing, dancing, worship, and fun summer camp activities. Each day is full of rehearsals that help build skills in voice, dance, and drama. And, of course, there will be plenty of time for fun summer camp activities such as dance night, swimming, team games, and more!
Teen Camp Coordinator: Rachel Holland
Email: [email protected]
832-510-7794
Dates & Location:
JUNE 12-17
Freedom Church, 8103 FM 1488 Road, Magnolia 77354
Cost: $300 early-bird registration; $350 after May 1
Scholarships are available!
Paint & Bubbles Studio serves half-day summer art camps to kids ages 4-12 years old. Camp themes vary week to week with all new art projects. Campers complete up to 12 unique art projects per week! Check out a few of our themes: Mermaid Tails & Pirate Sails Art Camp, Make it, Wear it, Love it Art Camp, Artsy Eats & Tasty Treats Art Camp, Let's Go Camping Art Camp, Dollhouse Camp and much more! Registration pricing varies based on camp. Base pricing starts at $245.
Ages: 4-12
Location:
Paint & Bubbles Studio
31311 FM 2978, Suite 107, Magnolia, TX. 77381
Contact:
Phone: (346) 703-2141
Email: [email protected]
Registration for Pure Soccer 2023 Summer Skills, Invitational and Pro-Week Camps is now open!
Skills Camps will be from May 29 through August 7, at our brand-new Woodlands location. The Skills Camps will be from 8am-12pm and 1-5pm every Mon to Fri, with the exception of the week of June 12th, there will be no morning Skills Camp and the afternoon Skills Camp will be from 2pm-6pm.
The Skills Camps are $270 for the week and can be purchased online via the button below. Individual days are available at $65 per day depending on availability and can only be purchased in person or over the phone.
Please note that when registering online via the button below please ensure that you schedule the correct week, time, and location that you would like to attend. Confirmation of both purchase and schedule will be sent via email.
Ages: 6+
Location:
27317 Spectrum Way, Oak Ridge North, TX 77385
Contact:
Phone: (346) 568 0007
Email: [email protected]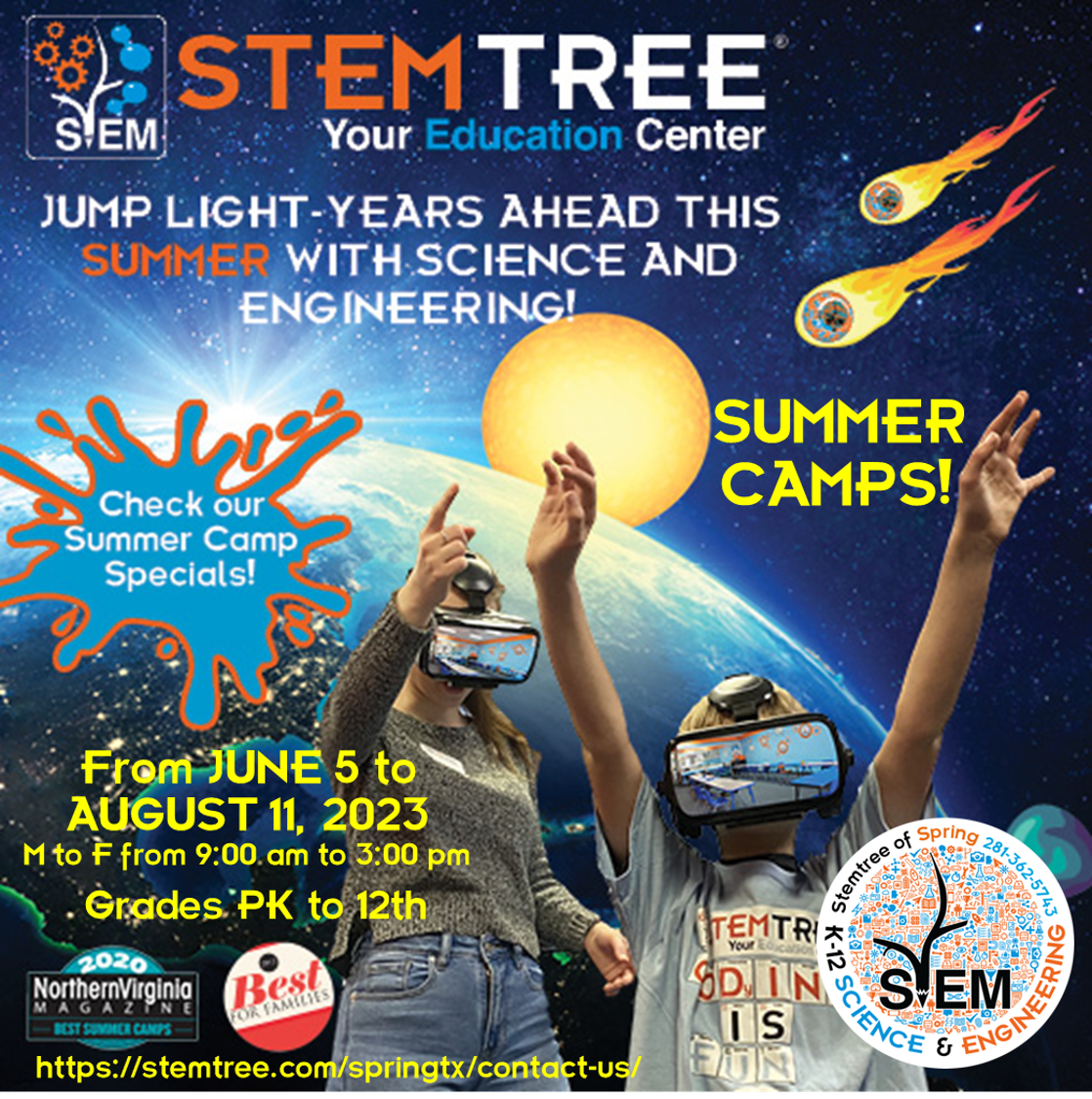 Our camps are not structured in a traditional classroom setting. At Stemtree, we provide all students with one-on-one instruction. This customized learning style is considered a highly effective learning environment for students. We guarantee fun activities with a high educational quality. Our camp includes Science experiments, Coding, Robotics, Electricity & Electronics, Mathematics. Each student will take an assessment at the beginning of the program to gauge their level to create a customized learning program that is fun and engaging. We provide all students with one-on-one instruction. Children never repeat an activity.
Dates: Weekly camps from June 5th – August 11th (10 weeks)
Times:
Half-Day Camp: Mon-Fri from 9am-12pm
Full-Day Camps: Mon-Fri from 9am-3pm
Ages: 4-15
Location: Stemtree of Spring, 915 Spring Cypress Rd, Spring TX, 77373
Contact:
Luis Miranda – Center Director
Phone: 281-362-5743
Email: [email protected]
COUPON DISCOUNT: 2023SUMMERCAMP25OFF
(Regular price $439 – $329 final price with the discount)
Summer camp fun for ages 6 weeks to 9 years old. Campers get to enjoy a different theme each week, these themes are explored through Science, Art, Music, Reading and Hands on Experiences. On Wednesdays we have fun with water to help cool off, campers get to enjoy sprinklers, splash pad, and other water based activities.
Engaging activities and themes each week. This years themes include Aloha Summer, Fairy Tales and Magic, Kids Cook Off, Super Spy, Around the World, Camping, Wildlife, and Build-a-Board Game.
Must provide lunch and a water bottle each day. Snacks will be provided
Dates/Times:
Session 1: May 30th – June 23rd
Session 2: June 26th – July 21st (Closed July 4th)
Summer hours are Monday through Friday from 7AM to 6PM
Pricing:
Registration Fee: $50 per session (covers the cost of all supplies and activities)
Tuition:
Infants (6 weeks to 12 months & walking) $950 per session
Tiny Tots (12 months & walking to 23 months) $900 per session
Beginners – Schoolers (2 years to 9 years) $600 per session
** NHM followers mention code NHM receive free registration **
Ages: 6 weeks – 9 years
Location: 1803 Highland Hollow Drive, Conroe, TX 77304
Contact:
Phone: (936) 756-4984
Email: [email protected]
theCoderSchool Spring Summer Code Camps provide a good foundation to coding concepts in a fun environment for beginner and intermediate coders.  We offer both in-person and online options focused on Scratch, Python, Javascript, and Robotics.  This year we are also introducing an Escape Room themed camp!
For ages 7+, beginners and intermediate coders welcome depending on camp.
Full day camps run from 9am-4pm with a lunch break, AM camps run from 9am-12pm, PM camps run from 1pm-4pm
Location: 3555 Rayford Rd. #45 Spring, TX 77386

Ages: 7+
Contact:
Phone: 832-764-0945 

Email: [email protected]
Harry Potter & the Art Camp
Potter camp is an art camp that is heavily themed in decoration, crafts, and activities. Each day campers will make crafts, play games and experience a wizarding world activity from care of magical creatures to a Yule ball. Our crafts will include painting & sculpting, circuitry in making our own led light up wands, and sewing basics in creating our own wizardry wardrobes & more! Due to the extravagant preparation & support needed to make this camp as wonderful as we aim to, we don't do it very often. We are so excited that the stars have aligned for us to put this experience on this year and we hope to see you there!
**Early Bird & Sibling Discounts available on the website**
Dates: July 10-14
Times: 10am- 3pm
Ages: 10-18 years
Location: The Studio, 11510 FM 1488 Building F Magnolia Tx, 77354
Contact:
Text: 832-492-7932
Email: [email protected]
The Masters Art Camp
Inspired by the Pageant of the Masters Festival, this 3-day Art intensive camp will have student discover and recreate Art that depicts themselves. Students will choose an art piece from Art History that reflects their look and style. They will study the composition to create a backdrop painting for their presentation. With the help of our seamstress and make-up artist, students will jump into their masterpieces and imitate their doppelgangers!
**Early Bird & Sibling Discounts available on the website**
Dates: July 26-28
Times: 10am-3pm
Ages: 10+ years
Location: The Studio, 11510 FM 1488 Building F Magnolia Tx, 77354
Contact:
Text: 832-492-7932
Email: [email protected]
Join us for a fun week learning about, playing with, and riding horses!  Our camp is full of crafts, activities, and outdoor fun.  Let your child come and experience these amazing animals while learning and meeting new friends. No experience necessary!
Location: Timber Grove Equestrian Center, 12100 Glenmar, Willis, TX 77384
Contact:
Phone: 281-250-1734
Email: [email protected]
Achieve Dance Academy
Adventure Kids Playcare Woodforest
Airborne Volleyball
Allegiance Volleyball
Alodia Basketball Academy – see featured listing above for more information
Aqua Tots Swim School
Arbor Music
Arthur Murray Dance Studio
ASI Gymnastics
Aspire Music Montgomery
At-Home Tutoring Services
Backstage Dance Studio
Bang Elite Sport Taekwondo
Believe Commit Achieve
Beloved Tutoring
Boni's Dance & Performing Arts Studio Inc
Camp Invention
Camp Pixel Project @ Spirit of Joy
Children's Universe of Conroe
Children's Universe of Magnolia
Cho's TaeKwonDo Academy
City of Conroe Camp Fun Quest
Club Z!
Coach Deon LLC Fundamental Youth Basketball – see featured listing above for more information
Code Galaxy
Code Ninjas Spring/Rayford
Code Ninjas Woodlands North/Magnolia
Conroe Aquatic Center
Conroe Area Girls Softball Association
Conroe Area Youth Baseball
Conroe Little League
Conroe Parks and Recreation
Cool Chemist
Cordovan Art School – see featured listing above for more information
Cornerstone Sport Horses
Cox ATA Martial Arts
Creme de la Creme
CristalClear Tutoring
Crossing Borders Language School
Cypress Academy The Woodlands
Dance Connections
Dance Dynamics
Deisy's Music Center
Dynamo Dash Youth
Edgebrook Equestrian Center
Emler Swim School
Ethos School of Music
Excelsior School of Dance
Extreme Performing Arts Center
Faith Bible Church
Fellowship of Montgomery
FINS Swim School
Fish Creek Kids Academy
FM Tennis Academy
Foxcroft Farm
Fred Astaire Dance Studio
Fun Fair Positive Soccer (FFPS)
Fundamentals of Basketball @ Montgomery UMC
Grace Pointe Dance
Gracie Humaita Conroe
Growing Heroes Preschool
Horse of Course Stables
Houston Dutch Lions
i9
Idea Lab The Woodlands
In-Step Dance Center
Inter Woodlands FC
Jabberwocky Art Camp
Joy to Learn
Just Swim with Jazz
Karate of the Woodlands
Kiddie Academy Woodforest: CampVentures – see featured listing above for more information
Kids R Kids The Woodlands
Lazy Acres
Lessons on the Go
Little Beakers The Woodlands
Lone Star Sport Horses
Loveland Ranch
LSJ Dance
Maestro Dance Academy
Magnolia Area Softball Association
Magnolia Lacrosse
Master Hong's World Champion Taekwondo
Maven Jiu-Jitsu Academy
Maximum Athletics
Momentum Karate & Fitness
Montgomery Gymnastics Academy
Montgomery ISD Aquatic Center
Montgomery Karate
Montgomery Kids Basketball / Upward Basketball
Montgomery Little Bears
Montgomery Little League
Muse Mantra School of Music & Arts
Nancy's Fancys Ceramics
National Youth Theater – see featured listing above for more information
Nemesis Athletics
Next Level Acting Studios
North Houston Horse Park
Oak Ridge Woodlands Area Little League (ORWALL)
Paint & Bubbles Studio – see featured listing above for more information
Painting with a Twist Conroe
Painting with a Twist The Woodlands
Performing Arts Center of The Woodlands
Phantom Cheer
Pinebrook Farms
Pinot's Palette The Woodlands
Play It Right Music School
Potteryland Studio
Prelude Music Classes for Children
Premier Martial Arts
Pro Music Instruction
R & I Dance Studio
Reeves Tutoring
Restoration Church
River Plantation Golf Club
Rustic Brush The Woodlands
Sarah Kelly Music School
School of Rock
SMGSL
Snapology
Soccer Shots
STEMtree of Spring – see featured listing above for more information
St. James Episcopal Day School – Summer Camp Program! – see featured listing above for more information
Stepping Stones Falconwing
Summer Science Safari
SwimLabs Swim School
Swimming Stages Swim Academy
TADA
Tally Ho Farm
The Art of Music Studio
The Coder School – see featured listing above for more information
The Dance Vault
The Golf Academy
The Keynote School of Music
The Learning Zoo
The Studio 1488 – see featured listing above for more information
The Tutoring Center
The Way Family Dojo
The Woodlands Academy of Art
The Woodlands Academy of Music
The Woodlands Children's Museum
The Woodlands Church
The Woodlands Performing Arts Academy
The Woodlands Country Club – Jr. Tennis Program
The Woodlands Dance Center
The Woodlands Family YMCA Branch Crossing
The Woodlands Family YMCA Shadowbend
The Woodlands Girls Lacrosse
The Woodlands Methodist Church
The Woodlands Township Sunny Dayz Camps
Tiger Rock Martial Arts
Timber Grove Equestrian Center – see featured listing above for more information
United States Soccer Prospects (USSP)
VillaSport
Vitacca Vocational School for Dance, The Woodlands
We Rock the Spectrum
Wine & Design Montgomery
Woodlands Art League
Woodlands Ballet Theatre
Woodlands Elite Cheer Co.
Woodlands Gymnastics Academy
Woodlands International Fencing Club
Woodlands Lacrosse
Woodlands Revolution Volleyball Club
Wow! Science Camp
Writing Symphony
Xtreme Spirit
Young Chef's Academy
Young Performers Studio
Young Rembrandts North Houston
Zuniga School of Music
Is there a Summer Camp we should know about?