I am super excited about today's Meet a Mom feature! The heart of this mom and her business is SO big, and she is such a blessing to have in our community ❤. Sheila Blue is the mama owned of Victory Pie Company. Victory Pie Company is in Magnolia on Tamina Road serving breakfast, lunch, and pies, and pies, and more pies!
Sheila's brother (and all veterans) are the inspiration behind her business. Sheila's only brother lost his life in Afghanistan leaving behind a wife, a son, and an unborn daughter. Her brother loved her chicken pot pie and also had a love for baking himself, so Sheila's business is a way that she honors her brother's memory. The loss of her brother also gave her a deep desire to give back to those who make sacrifices daily for our freedom. So, a portion of ALL profits goes to support veterans, and widows and orphans of veterans.
Eating at Victory Pie Company, your belly will not only be full by Sheila's amazing food, but you are also helping Sheila give back. Check out Sheila's Meet a Mom interview below to learn more about Victory Pie Company from the beginning to her future goals + all things mom life while running a successful business.
Where are you from originally and how long have you lived in the North Houston area?
I am originally for the Bay Area, California. I have lived in North Houston for almost 17 years
now.
How many kiddos do you have and how old are they?
I have three sons, Elijah 25, Gabriel 22 and Samuel 20
I also have a new grandson named Gideon!
What are your favorite local things to do? (with kiddos or just for mom!)
I love going to other small businesses and checking out what's new in town as well as antiquing and thrifting.
When I was a younger mom I would take my sons out on what we called a $10 day. We would go buy something off the dollar menu and go to the movie theatre for $1.50. We always had fun.
As hard as it is to find the time, what's something you do just for yourself?
I journal and make quiet time to feed my soul
One thing people would be surprised to know about you…
That I have chickens and beehives and love country life!
What's the best mom advice you have ever been given (or your own advice to mamas out there)?
Listen to your kiddos and learn to respond rather than react to situations, conversations and actions.
Tell us about Victory Pie Company! When did you open the doors and what do you offer?
I started out in a farmers market with 12 pies and a tent. One year later, to the day, I opened my cafe and have been in business ever since! We offer breakfast and lunch all day and pies, pies, pies. Savory, sweet and a variety of sizes.
Why is it important to you to give back to veterans & widows and orphans of veterans? What has the experience of giving back been like for you?
I lost my brother who was serving in Afghanistan and he left a wife, a son and an unborn daughter. That kind of loss and hurt and need hit home. I wanted to do something to give back to those who make sacrifices daily for our freedom. The experience of giving back has humbled me. It has taught me what one persons will and work can do to make a difference in the lives of others. It has also taught me to dig deep and motivates me when I have tough days because what I am doing is about something bigger than myself and it affects so many if I don't "show up".
What did you do before opening Victory Pie Company (or still do if you still work outside of Victory)? Have you always been entrepreneurial?
I homeschooled my sons for 18 years, owned a small faux finishing business and before all that I was a paralegal. Lol
Where did you learn to make pies? Have you always had a gift for baking / cooking?
I learned to make pies when I was young. My mom did not really like to cook so she let us get in the kitchen early. I started cooking at 10 years old and made my first chicken pot pie when I was about 12. My mom said it tasted so good no one else was allowed to make it but me anymore. Haha
From what I can tell, your business has blown up, Congrats! What do you contribute your success to and what do you think sets you apart?
Three simple, but not always easy, things. Consistency, quality and relationship. Always showing up no matter what. Never compromising on the quality of our product or service. Learning about, loving on and getting to know our customers and treating them like family.
How do you balance owning your business and being a mama?
In the beginning, honestly, not very well. But I had to learn to shut work off when it was time to be with my kids. Being ALL IN. Even if that meant keeping the phone in another room. Being present to listen and play and do whatever it was that we were doing at that time.
What are your future plans and dreams for Victory Pie Co? Any deals, sales, or events North Houston Mom can be on the lookout for?
I would love to begin opening some other locations. We will see what happens with this coming year. We ALWAYS have a discount for military and first responders. We will have some holiday specials coming and they can be found on our social media. We post whenever we have something fun happening.
For any moms who read this post and come in to the café, mention that you heard about us here and you will receive 10% off your purchase.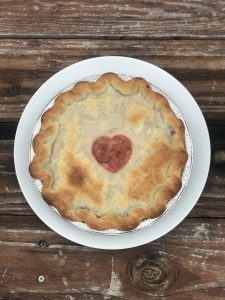 To learn more about Victory Pie Company or to go check them out in person:
Location: 32907 Tamina Rd, Magnolia, TX 77354
Website: https://victorypiecompany.com/
Instagram: @victorypiecompany
Twitter: https://twitter.com/victorypieco