Today's Meet a Mom is Morgan Michael, the Mama behind the photography business – Morgan Michael Photography. After Morgan had her daughter, she decided she wanted something different for herself other than her Oil & Gas career she had since college. She always had a love for taking photos and with the support of her husband, Morgan Michael Photography began. Just this past January, Morgan opened her very own studio in Magnolia where she offers newborn, maternity, milestone & family photo sessions (in studio or an outside location of choice).
Check out Morgan's #meetamom interview below to learn more about the inspiration behind starting her own business, how she balances that with mom life, and more!
Where are you from originally and how long have you lived in the North Houston area?
I am originally from Midland, Texas where I graduated high school. I then went to Texas Tech University graduating with my BBA in Marketing. After graduation, I moved back to Midland to start my oil & gas career. My husband and I moved to Houston in November or 2019.
How many kiddos do you have and how old are they?
I have one daughter, Harper Grace (age 15 months)
What are your favorite local things to do? (with kiddos or just for mom!)
I love trying new places to eat, especially Mexican food! Market days are a must, Magnolia offers several on the weekends! Also, shopping in Market Street is great especially when Harper can play with the other kids in the activity circle!
As hard as it is to find the time, what's something you do just for yourself?
I wake up early to write out my daily, weekly and monthly goals. I do also take advantage of a great manicure along with a mimosa when time allows.
One thing people would be surprised to know about you…
I absolutely love being outdoors! Hunting, fishing, snow skiing, being on the water are some of my favorite things to do!
What's the best mom advice you have ever been given (or your own advice to mamas out there)?
Being a mom is one of the hardest yet most rewarding jobs out there. I want every mom out there to know she is an absolute superwoman that created a miracle. Continue to give yourself grace, love, patience and compassion. You only get one life, don't forget to live it!
Tell us about Morgan Michael Photography! When did you start your business and what do you offer?
I have been taking photos for years but I finally made the decision to jump start my hobby into a professional career and opened my very own studio in January of this year! As of today, I offer newborn, maternity, milestone & family photo sessions in my studio or an outside location of choice. I am currently in the process of start to offer professional framing, printing and albums for my clients as well. This way I not only capture the moments for my families but also display it for them to cherish forever.
Have you always had an eye for photography or when did that begin for you?
I have also loved taking pictures but it wasn't until one day sitting in the living room with my husband and we were discussing future plans. I had been in oil & gas since graduating college. This wasn't my dream but it was a great starting point. My husband suggested I start my own photography business since I had always had a passion for taking photos. So here we are, my very own company, my own studio & able to raise my daughter ~ DOING WHAT I TRULY LOVE TO DO.
Do you have your own studio? What is your goal for each client that comes into your studio?
My studio has everything we need to create beautiful portraits of your pregnancy, your baby, and your family. It is filled with natural light to create clean, fresh looks that you'll enjoy for years to come.
Beautiful, professional portraits tell part of your baby's story… a story that is better remembered and shared with
pictures that bring you back in time.
How do you "balance" being a mama and a business owner?
I won't lie and say it's always easy but I will say every day I wake up and tell myself how unbelievably lucky I am. My husband deeply supports my dreams and encourages me to continue pushing forward. My daughter is my why, I want her to know she too can create a dream for herself and have a family all at the same time.
Future plans and dreams for Morgan Michael Photography?
This isn't just a one-time thing. I want to create a lifetime story for you and your family. From senior pictures to your engagement – to becoming a mother and your new baby's arrival. I want to watch your children grow each year and years to come. I want to keep my clients coming back for more. I want each of my families to cherish my work for a lifetime.
This isn't my reaching point…. I am just getting started.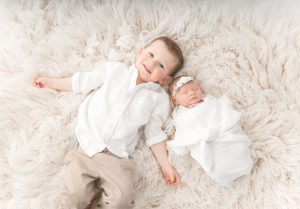 To learn more about Morgan Michael Photography:
Website: https://morganmichaelphotography.com
Instagram: @mmphotography2021
Facebook: @morganmichaelphotography
Pinterest: @morganmichaelphotography