Today's Meet-a-Mom is an amazing, local mom to 4 kids and mompreneur, Mandi Roach. Mandi is a Jesus loving wellness advocate and super talented photographer. Mandi caught my eye on Instagram because of her beautiful photography (Mandi Roach Photography). As we connected, I could tell immediately what a positive and encouraging person she was. Little did I know, she has a beautiful story of wellness advocacy as well. 5 years ago, Mandi was diagnosed with an invasive breast cancer at 38 years old which sent her on an endless wellness journey – first for herself and now she feels called to encourage others in their health. She is now a partner with Juice Plus+ after seeing the health benefits to her and her own family.
Check out her interview below to learn more about Mandi, Juice Plus+, her photography, and her beautiful advice to new parents as a mom with 21 years of experience.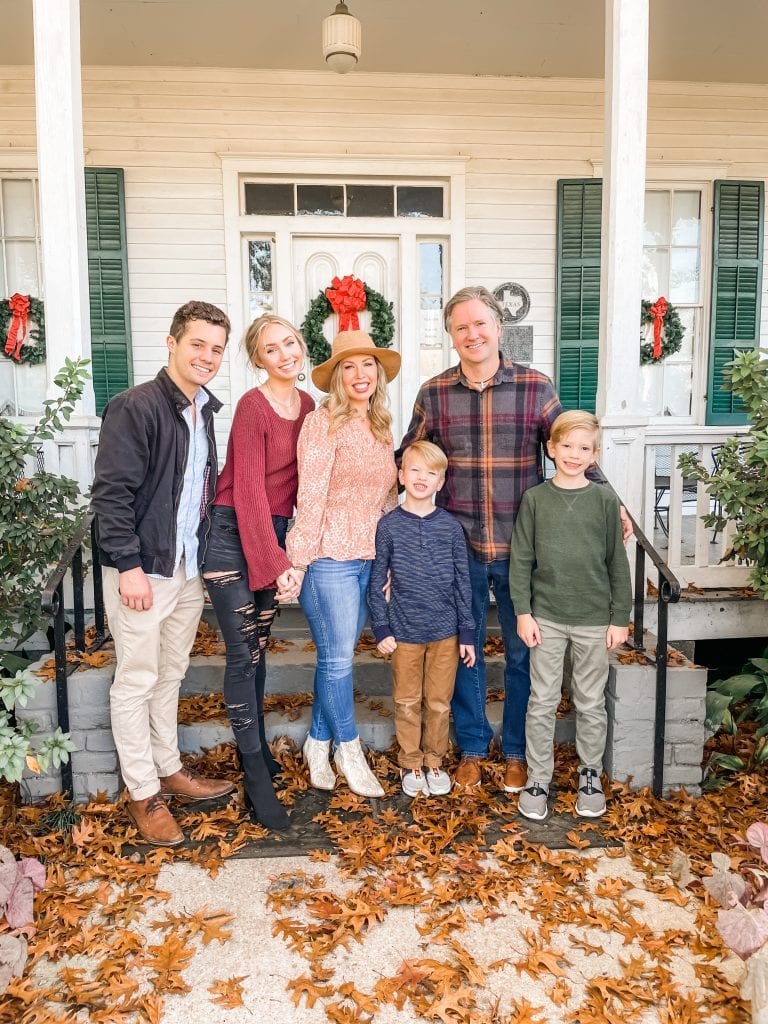 Where are you from originally and how long have you lived in the North Houston area?
I am originally from the northwest-central part of Houston. I have lived in north Houston for 22 years; in The Woodlands for 11 of those years.
How many kiddos do you have and how old are they?
4 kids ages 7, 9, 19, and 21
Least favorite mom job? (i.e. packing lunches, dishes, bath time, etc.)
Putting clothes away. I will wash and fold all day but putting them away is a beast.
Best mom hack that makes life easier?
Baskets for all! No matter how old your kids are, they accumulate stuff and stuff becomes physical clutter which then becomes mental clutter. Baskets are a "landing area" for toys, shoes, and sports equipment, while leaving common areas clutter-free.
What are your favorite local things to do? (with kiddos or just for mom!)
In The Woodlands, bike trails, parks and trees foster an outdoor experience and a natural beauty that's hard to beat. We enjoy riding our bikes to local eateries, concerts and seasonal festivals.
As hard as it is to find the time, what's something you do just or yourself?
I've just recently adopted a healthy new habit – massage. I once thought of it as a luxury, but now I view it as a necessity to a healthy lifestyle.
One thing people would be surprised to know about you…
I was diagnosed 5 years ago, at the young age of 38, with invasive breast cancer. I'm now on an endless journey of wellness advocacy for others. I want everyone to know that it is not just about diet and exercise; wellness is so much more. It is not about just being thin, it is about doing what is best for your body and your mind so that you are able to live a long, healthy, and grateful life with those you love.
Are you involved in a business venture, a local organization, or creative endeavor? Please share!
Thanks for asking! I'm a female entrepreneur, in fact. I run and operate my own part-time photography business. In addition to that, I inspire healthy living in others as a partner with Juice Plus+. It was a no brainer to join the Juice Plus+ business after seeing its impact on my health and that of my family. It's an absolute blessing to earn an income simply by educating others on the importance of health and prevention.
Your photography is beautiful! What is your specialty? Have you always had an eye for photography?
Well, thank you for the compliment – it means a lot to me.
I always knew that I wanted to do something where I could be a blessing to others. After years and years of prayer and searching, I finally found that calling. In the same way that many are called to be pastors, I believe others are called to be teachers, authors, scientists, and politicians. I was simply called to be a photographer. God put a passion in you, specific strengths and giftings IN YOU, so that you might shine His light in your industry.
My photography business blossomed almost entirely on its own. The Lord kept providing over and over again, so I decided to make the leap and turn it into an official business in 2014! I was like "okay, Lord, we're doing this." That's not to imply it's always been easy. Rather, it's taken years of hard lessons (and I'm still learning), but I find that this is a vital part of understanding how to live out your faith through your work.
Being a mama of kids ranging in age, what has been your favorite and your least favorite (or most difficult to ask more nicely) stage or motherhood?
The thing is, parenting is hard.
In the early years, I thought it would get easier. But now, after 21 years of parenting, I've realized that this it doesn't get easier…it simply changes. I spent a long time thinking that if I could just get through one stage to the next one, things would fall into place. I kept waiting for some sort of parenting auto pilot to kick in – whether it was because my kids finally got the hang of being kids or I finally got the hang of being a parent.
Turns out, we're all just winging it.
As my kids have grown, I've had the chance to reflect on previous stages while comparing them to whichever stage we find ourselves currently. Early on, I came to the conclusion that each stage is my favorite – and my least favorite at the same time.
Even once a child has gone off to college or moved out on their own, you will worry. You will still get calls at all hours for emotional support, for money (mostly for money), and advice on how to work the washing machine in their new apartment building. You will still worry, because you can't control or see or supervise their lives anymore. In fact, you may worry more than ever because not only will you question their judgement, but you will replay every mistake you ever made as a parent and wonder if that was the difference between them being ok or not.
Most of all, you will find yourself sitting in a puddle of your own tears more than once, longing for any of the stages that came before. You will remember the sweet smell of their downy heads as they lay sleeping on your chest as an infant. You will remember the golden sunshine that exploded with their first smile. You will remember the sticky, chubby hands that grabbed your face and told you were pretty when they were a toddler. You will long for the proud, big-toothed grin that accompanied the handmade Mother's Day card they gave you when they were a "big kid." You will miss the wonder you experienced watching them blossom into a bright curious human in their tweens. You will wish for just one more night of peeking into your teen's room while they slept and breathing a sigh of relief and pride – knowing that they were safe and on their way to great things.
Again, we never get to stop being parents. We will always worry and we will most likely always be exhausted because of it. But if we're lucky, our kids will never stop needing us. Not to say they won't gain their independence, but we are inextricably linked as parents and children. And while some stages may seem longer or harder at the time, they will pass. The one thing I can promise is that you will remember less of the bad and more of the good as time goes on and you enter the next phase.
Any advice for the new mom who is just starting her motherhood journey?
GO ahead, be tired, be frustrated, be emotionally and physically drained – but don't forget to be present. It will go by more quickly than you know. Soak up every moment, whether it's happy or sad or tiring. Because these are the moments, believe it or not, that will fill your memory bank and remind you for the rest of your life why being a parent is the most rewarding thing you've ever done.
Future plans and dreams for your business ventures?
Continue to bless others with either my gift of photography or inspire them to live a healthier lifestyle.
To learn more about Mandi, her photography, & Juice Plus+:
Instagram: @mandikroach
Website: mandiroach.juiceplus.com
Website: www.mandiroachphotography.com