Today's Meet a Mom is Kristine Marlow, the President and CEO of Montgomery County Food Bank. I am honored to share more about Kristine and MCFB as this organization, just last year, provided over 11 million nutritious meals through their vast network of over 70 partner food pantries, local school districts, and community partners! They have truly united this community to fight hunger through Kristine's guidance. Kristine began at MCFB last year in the midst of the pandemic and has helped her team provide meals for neighbors that were struggling to put food on their table for the first time.
Outside of MCFB, Kristine is a Woodlands resident, avid runner, wife, and mom to 4 kids. You might be surprised to know that this mama was in the Air Force for 8 years and even met her husband while in the Air Force who was a pilot – they have now been married 27 years! Check out Kristine's Meet a Mom interview below to learn more about how she got involved in MCFB, how MCFB helps the community, what the most rewarding thing has been about working for this organization, and of course, all things #momlife!
Plus, right now, Montgomery County Food Bank is having their annual holiday food drive – Stock The Sleigh! It's the perfect time to get involved, so make sure you visit their website to register your food drive or ornament fundraiser location today!
Where are you from originally and how long have you lived in the North Houston area?
I was raised in a military household, so I lived all over the world growing up. We have lived in The Woodlands for 22 years!
How many kiddos do you have and how old are they?
I have been married for 27 years to my wonderful and supportive husband, Garth, and I have 4 amazing children: Rachel: 23, Maggie: 21, Lizzie: 19, and Joey:16.
What are your favorite local things to do? (with kiddos or just for mom!)
Our family loves to get out and try new restaurants, listen to music at outdoor concerts that are popular in the spring and fall, and walk the dog on the trails around our neighborhood.
As hard as it is to find the time, what's something you do just for yourself?
Ever since the kids were very young, I found there was so much value in keeping up an exercise routine – whether it was a walk with the kids in a stroller or riding their bike alongside me, time at the gym, or training for a distance race. Currently I wake up very early and run several days a week. It's my time to visit with my running friends & clear my head for the day, and it gives me extra energy!
One thing people would be surprised to know about you…
I graduated from the Air Force Academy and was an Aerospace Physiology Officer for eight years. I worked with Air Force pilots and aircrew on issues surrounding the physiological effects of flying. I also led operational testing of life support and chemical/biological protective equipment. And it just so happens that I met my husband while we were both in the Air Force!  He flew the MC-130P in the special operations forces and is now an airline pilot.
What's the best mom advice you have ever been given (or your own advice to mamas out there)?
With four kids, morning times before school in our house were sometimes a little hectic. From a young age my kids were responsible on school nights for making their own lunch and packing their backpack. As long as they had the basics of protein, fruit or vegetable, and a whole grain, they had the freedom to pack what they wanted in their lunch and they happily ate it. This made the mornings much less stressful! It was a simple thing that made a huge impact.
What is your role at Montgomery County Food Bank and when did you first get involved?
I am honored to be the President and CEO of Montgomery County Food Bank. I started in August 2020, in the midst of the pandemic, and am proud of our team who has worked hard to help our neighbors struggling to put food on the table. Prior to my time at MCFB, I worked at St. Anthony of Padua Catholic Church in The Woodlands. I spent some time helping in the church's amazing food pantry and saw first-hand the impact this ministry had on the people seeking help. Many were asking for food assistance for the first time during the pandemic and were grateful for the food we provided. That experience led me to the Food Bank.
What is the focus of MCFB and what is your impact on the Montgomery County community?
Montgomery County Food Bank's mission is to unite the community to fight hunger. Last year we were able to provide over 11 million nutritious meals through our vast network of over 70 partner food pantries, local school districts, and community partners. We work in partnership with retailers and wholesalers to provide a solution for food waste by rescuing food that would otherwise go to the landfill. As a part of our green initiatives program, we operate an onsite Produce Rescue Center that allows us to distribute fresh fruits and vegetables which emphasizes the importance of sustainability and promotes healthy food choices. Our vision of a community where everyone has access to sufficient, nutritious food is possible through the support of our volunteers and our community and corporate partners.
What different programs are available to the community and how can the community get access to those programs?
Montgomery County Food Bank has several programs focused on strengthening and nourishing our community, including:
Partner Food Pantries
Mobile Markets
Senior Distributions
School Distributions
Backpack Buddy
Nutrional Education
Green Initiatives
To learn more about our programs, you can visit https://mcfoodbank.org/montgomery-county-food-bank-programs-conroe-tx/. If you or someone you know is in need of food assistance, please visit https://mcfoodbank.org/find-a-food-pantry-partner-agencies-conroe-tx/ to find a food pantry or mobile market near you.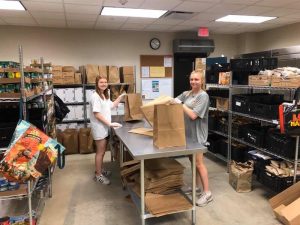 How can we help support MCFB and your mission?
There are many ways to get involved at the Food Bank such as volunteering, making a donation where every $1 provides 5 meals to those in need, hosting a food drive, donating your birthday, and so much more. Also, our annual holiday food drive, Stock The Sleigh, has begun! We are encouraging the entire county to get involved. Please visit our website to register your food drive or ornament fundraiser location today!
What has been the most rewarding thing about what you do?
I get to work with such incredible people who have a huge heart to help others. Every staff member, volunteer, and partner has their own story about the impact this service has on them personally. I am also blessed to work with such incredible partner agencies throughout Montgomery County. Each agency serves the clients in their local area, and the staff and volunteers are incredible human beings who sacrifice time and resources to ensure the people in our county who are struggling have the basic human need of food.
To learn more about MCFB:
Website: https://mcfoodbank.org/
Holiday 2021 Food Drive (Nov.1-Dec.3) : mcfoodbank.org/stockthesleigh
Instagram: @montgomerycountyfoodbank
Facebook: @MontgomeryCountyFoodBank