This Meet a Mom is a local mom of two girls and the owner of Soccer Shots The Woodlands. Erin Smith, alongside her husband, shares with us the reason behind taking over the Soccer Shots franchise for the Montgomery County area, her favorite things to do around town, and some fantastic advice that all moms should take!
Hi Erin, can you tell us about yourself? Where are you from originally and how long have you lived in the North Houston area? 
I'm originally from Ohio by way of Florida, but I relocated to North Houston in 2015 when I wed my Texan husband.
Tell us about your family!
We have two girls, Ella and Ivy, who are 16 months apart in age. Ella James is 3 and Ivy turns 2 in April!
What is your business? 
My husband and I own Soccer Shots The Woodlands. We took over ownership seven years ago. As it is a franchise, it was operating in North Houston for a couple of years prior to our ownership.
Can you tell us the reason and passion behind Soccer Shots The Woodlands?
My husband, Chad, grew up in Spring and played soccer throughout his childhood and early adulthood. While he was playing professionally for a Christian ministry team in Charlotte, some of his teammates taught soccer to children in preschools and daycares during the offseason—and Chad had an opportunity to coach with them. At the time, there was no formal curriculum or fancy technology or equipment, but everyone shared a collective desire to positively impact children's lives through the game of soccer. That was the foundation of Soccer Shots and remains our mission today. Today, there are over 200 Soccer Shots franchises across the U.S. and Canada serving over 500,000 children!
Since joining the franchise community in 2016, we've had two children—and it has given me a completely new perspective on what we do. As a parent, I now find myself incorporating so many of the strategies we teach our coaches for engaging children! It has truly helped me communicate better with my children—and it's so fun when our girls remember things they learn in their Soccer Shots sessions and incorporate them into their daily play with one another.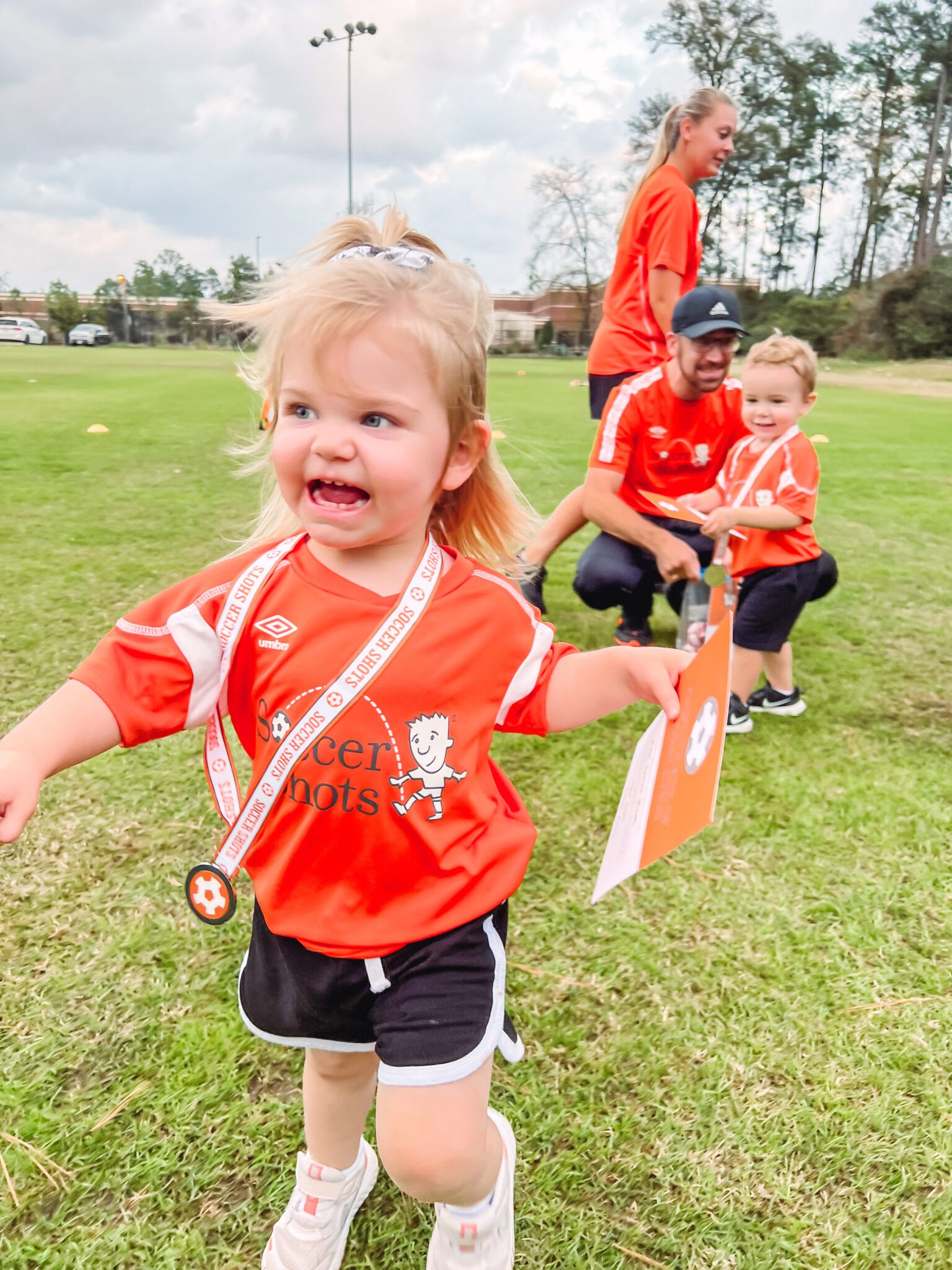 What does Soccer Shots offer?
Soccer Shots is an engaging children's soccer program with a focus on character development. As an intro to soccer program for children ages 2-8, we focus on teaching the foundational skills of the game in a fun, encouraging environment. Our caring team positively impacts children's lives on and off the field through best-in-class coaching, curriculum and communication. Our coaches are the best-trained in the business. Our expert-approved curriculum is age-appropriate and aligns with Texas Early Learning Guidelines.
We offer school-based and public/park programs across Montgomery County, plus Tomball and Spring. We aim to provide a beloved growth experience for every child, and we are proud to have the opportunity to do that for thousands of children in north Houston each season. If you can't find a program in your area, reach out to us! We are always exploring new locations to offer Soccer Shots.
​What sets you apart from other soccer options?
Our coaches, curriculum, and communication!
Our coaches are a huge part of what makes Soccer Shots so special. They are more than simply soccer coaches; they are early childhood education teachers. They go through 40+ hours of Soccer Shots curriculum training, plus complete 12 hours of early childhood education courses through Texas A&M. Not only do they have a love for the game of soccer, but they also have a passion for working with young children. And, our coaches are FUN! I always say it doesn't matter how good of a soccer player you are, you also have to be confident (and silly) enough to hop like a bunny and run like a cheetah!
We don't simply run drills or play games. We teach children soccer skills like dribbling, passing, and shooting through age-appropriate games and techniques. Our curriculum is created by childhood education specialists and aligned with Texas Early Learning Guidelines.
We are committed to providing ongoing communication with families. We will always keep you informed on what your child is learning, and we are committed to responding to questions in a timely, professional manner.
What are some of your favorite things to do locally?
Our girls love being outside, so in warm weather you'll often find us at one of the Woodlands Township parks or the Timarron splash pad. They also love Creekside Green, so we'll grab a few friends, pick up a pizza at Crust and let them play at the green space. When it's rainy or cool, we'll hit up Chick-Fil-A or visit one of the local children's museums: Play Street Museum or The Woodlands Children's Museum.
Our mission is to Give Moms the Gift of Time — what are your best time-saving tips/resources as a mom?
Buy the cut fruit, ha! In all seriousness, I take every opportunity to gain time back with my family. So whether it's buying pre-cut fruit or using meal delivery services (we love Home Chef), I am all about simplifying so I can spend more time doing the things we love as a family.
And, I think enrichment programs (like Soccer Shots) offered through schools is a great way to introduce children to new activities without giving yourself yet another weekend commitment. Many preschools and elementary schools now offer everything from soccer to cooking to ballet.
Follow Soccer Shots The Woodlands on Facebook and Instagram!
Limited spaces are still available for Soccer Shots Winter/Spring 2023 Season! Find a location near you at soccershots.com/woodlands. Can't find a location near you? Get in touch with us about how you can start a program in your neighborhood! Text, call or email us with any questions at 832-370-1220 or

[email protected]

. Use discount code NHM10 for 10% off your season costs.