Today's Meet a Mom makes products that keep you and your family healthy….naturally! Meet Erica – the mama behind Live Berry Well. My family recently added her elderberry syrup to our daily routine and I got to tell you, it's been an easy addition! The kids take it down easily and I feel good knowing it's all natural, mama made, and boosting our immune systems. We also have her honey in our house and it's so good! In addition to elderberry syrup and honey, Erica also makes soaps, salves, DIY elderberry kits, elderberry tea, and garlic oil ear drops. This ex-teacher and local mom of 2 loves helping people live a healthier life!
Check out Erica's Meet a Mom interview below to learn more about her inspiration behind her business, when using natural products became important to her, and all things mom life!
Where are you from originally and how long have you lived in the North Houston area?
My husband and I are originally from Michigan where we met at Michigan State University.
We have lived in the North Houston area for 12 years.
How many kiddos do you have and how old are they?
We have 2 children who are ages 8 and 6.
What are your favorite local things to do? (with kiddos or just for mom!)
We love going to the Zoo and to the Museum of Natural Science. 
As hard as it is to find the time, what's something you do just for yourself?
I love to read! Sometimes, I will go months without reading but when I pick up a book, I can't put it down.
One thing people would be surprised to know about you…
I was a teacher for 11 years, Kindergarten and First Grade. Last year, I homeschooled my girls and it was the best year I ever taught. We all had so much fun exploring nature and focusing on what we really needed and wanted to learn.
What's the best mom advice you have ever been given (or your own advice to mamas out there)?
The best mom advice I've been given was to keep a routine. We hold steadfast to routines in our lives and it has made parenting so much easier. Plus the kids know exactly what to expect which gives them a sense of comfort in their lives. I had a very strict routine as a teacher and that has carried over into our lives as a family.
Tell us about Live Berry Well! When did you begin this business and what services and/or products do you offer?
I began making elderberry syrup in 2015 out of our home kitchen. We moved into our commercial space in 2020. We make a plethora of all natural products like herbal teas, DIY home kits, and of course elderberry syrup. We also carry a slew of other products that we love and use in our own home like goat's milk soap and garlic oil ear drops.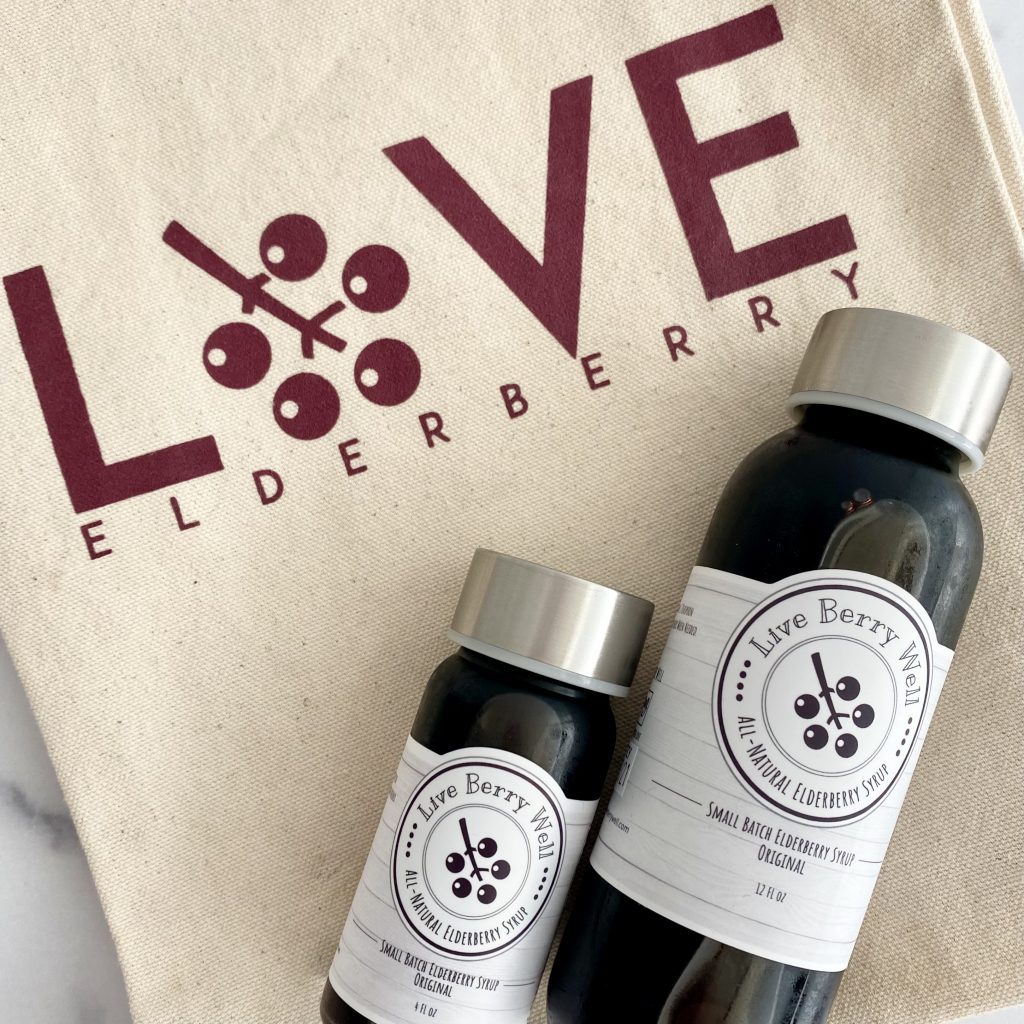 What was the inspiration behind starting Live Berry Well? When did you learn about elderberry and its benefits?
I began making elderberry syrup when my oldest was 2 and kept getting ear infections. I started researching homeopathic ways to keep us all healthy and elderberry syrup stood out from the crowd. My husband was a huge part of starting up Live Berry Well. He owns his own marketing agency and he designed our labels, made our website, and made sure that we were up to code with the health and safety of our homemade products.
Has health and using natural products always been important to you? Or when did that begin for you?
I became more health minded when I was pregnant with my first child and especially after she was born. I have always been sensitive to scents and body products and I wanted to make sure that she had the best.
What did you do before starting your own business (or still do if you still work outside of Live Berry Well)? Have you always been entrepreneurial?
I was an elementary school teacher for the last 11 years of my life. I've been a big supporter of my husband in his entrepreneurial ventures as he made his own marketing agency. My husband was a huge part of starting up Live Berry Well. He designed our labels, made our website, and made sure that we were up to code with the health and safety of our homemade products. I couldn't have made this company without him by my side.
What has been the most rewarding thing about owning your own business?
I love helping people to live a healthy life. Many of my customers have been supporting us since we sold elderberry syrup out of our home and they have become like family. It fills my heart to know that I'm helping them and so many other families across the country.
How do you balance owning your business and being a mama?
It is a delicate balance between working hours at the shop and being present as a mom. That's the most important thing about parenthood, to be present and to really listen to your children. 
What are your future plans and dreams for Live Berry Well? Any deals, sales, or events North Houston Mom can be on the lookout for?
We are always on the lookout for more retail locations. Currently, our products are available in six health minded businesses. We dream of becoming a local shop that people all over the area can come to when they need healthy products, herbs and spices, and products made by other small businesses in our area. We offer a 10% discount for all new customers, free shipping over $40, frequent sales, and subscription packages that save money and the hassle of remembering to order more syrup.
To learn more about Live Berry Well & Shop:
Website: LiveBerryWell.com
Instagram: @LiveBerryWell
Facebook: @LiveBerryWell