It's Meet a Mom Monday! Today, I am so excited to introduce you to Crystal Williams! This is a local mom who I was lucky to meet while we lived in Katy, and now we have both ended up on the north side of Houston and I couldn't be happier about it! Crystal is a loving mom to her son full time, a Faith & Lifestyle blogger, and a free lance social media manager. Crystal has such a gift with words and the gift of encouragement, and she is a bright light in the digital world. Crystal feels called to minister women through written word, and she uses her blog and social media to do just that. Crystal has been blogging since before blogging was as popular as it is today, and she isn't motivated by how many followers she has or monetizing her platform, she is motivated by encouraging others through Jesus.
Check out Crystal's Meet a Mom interview below as she shares about her inspiration behind her blog, local favorites, her cleft lip & palate journey with her son, Josiah, and how she can help businesses (or individuals) through her free lance social media management.
Where are you from originally and how long have you lived in the North Houston area?
I was born and raised in Houston. Growing up we lived inside the 6-10 loop and then moved out to the suburbs. Upon graduating from high school, I attended East Texas Baptist University in Marshall, Texas where I met my husband. After getting married we moved to Katy, Texas where we church planted for 6 years. We moved to The Woodlands November of 2020 and we are LOVING it.
How many kiddos do you have and how old are they?
So far just one! Josiah will be 2 in June and I can't believe he's growing so fast!! It baffles me as it does any parent.
Least favorite mom job? (i.e. packing lunches, dishes, bath time, etc.)
Definitely laundry. Hands down. I can't keep up.
Best mom hack that makes life easier?
A car seat caddy that is always packed! Ours has extra diapers + wipes, a few toys or books, a blanket, and a change of clothes. It's a life saver if ever we're on the go and I forget something on our way out the door. (But while he was a baby – The Doona carseat/stroller! GAME. CHANGER.)
What are your favorite local things to do? (with kiddos or just for mom!)
Josiah LOVES the outdoors and parks. A few months into living here we got a mailer stating The Woodlands has 149 community parks! So discovering a new park is currently our favorite way to spend time together here. We also love grabbing a Grimaldi's pizza for an early dinner and walking the Waterway.
As for this mama, give me a fun coffee shop to explore or a new running trail to venture out on and I'm HAPPY!
As hard as it is to find the time, what's something you do just for yourself?
I take half-a-day just for me, once a week! Being a full time SAHM with a freelance gig on the side, I'm home chasing my little one or behind my desk most of the time. Luckily, my husband is off on Fridays so every Friday (as best we can) we work it out for me to have half a day to myself. I can check out a new coffee shop, get my nails done, go on a long run, meet a friend for lunch, basically do whatever I want! It's glorious and if at all feasible for any mamas out there, I recommend it.
One thing people would be surprised to know about you…
I lived in China for a month over summer break before my junior year in college! It was a study abroad trip and I LOVED it. Being immersed in a different culture for a period of time teaches you so much.
Tell us about your blog! When did you start blogging and sharing your life online? What was the inspiration behind that?
I started blogging in college (2009), before it was the cool thing to do, before social media really took off, and before blogs were monetized at large. My love for blogging all started when a college professor had us start a blog where we would write reflections from a required reading he had assigned. He would then check each blog and grade us based on our entries. I was hooked!  (I actually have like four other blog sites floating around in cyberspace somewhere with incredibly cheesy and embarrassing blog names that I no longer write on.)
Anyhow, when my husband and I moved from East Texas to Katy to church plant I started a blog pertaining to new married life and life in ministry. After two years of that, in June of 2017, I finally rebranded and launched a brand new self-titled website (www.crystalleewilliams.com). As a faith and lifestyle blog, you can find an occasional mom life blog post, faith related blog posts, marriage posts, travel posts, recipe posts, event recaps and more. By sharing my life online, I can't help but also share Jesus. That's my inspiration behind all I do.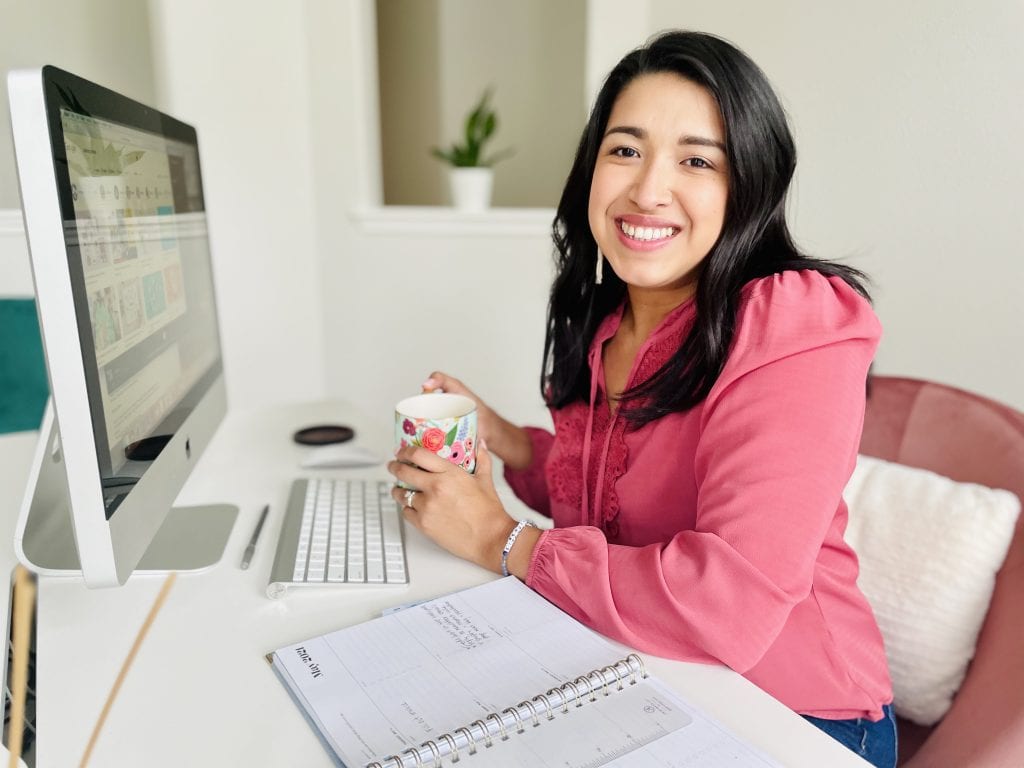 What are your future dreams for your blog and how do you hope to inspire others with your words?
I tell people all the time that I feel called to minister to women through the written word (blog posts, devotionals, articles, social media post captions, and hopefully even a book one day) AND the spoken word (speaking engagements, video content, maybe a podcast some day). So if from my blog stem all those things, that would be a dream come true!
My goal has never been to monetize a blog until I make a six figure income or to have the largest following on social media platforms, rather to simply steward well whatever platforms or opportunities God gives me by genuinely connecting with my readers/IG friends as I use my voice to encourage others to abundant living and faith in Jesus.
You also offer social media management, what does that look like for someone or a business that might need some extra social media help?
Yes! While my experience in social media management extends back to 2012 – creating and managing content for various businesses of various scales – I am so excited to now offer this for clients on a freelance basis. As social media continuously evolves, so does this job! I have enjoyed learning more as I go and helping ease the headaches my clients can often feel when trying to keep track of all the latest social media things.
In a world that has very much doven into all things digital due to the pandemic, it is important now more than ever to have a strong, consistent social media presence as a business. I enjoy helping clients strategize and produce content that helps them do just that while also remaining true to their own personal voice, values, and what they have to offer. On my website I have more information about the various services I offer, as well as a contact form for anyone interested in a free consultation!
You're very open about your faith. How does your relationship with Jesus play a part in your motherhood journey?
It is embedded into every part of it. Following Jesus teaches me how to be more loving, joyful, peaceful, patient, kind, gentle, good, faithful, and how to have more self-control. Do I always get it right? NOPE! But Jesus is the best teacher to learn these things from. And I'd say those are great qualities for a mother to have. At least they're ones I want to have. In moments of weakness or burnout, Jesus' teaching also reminds me of the importance of rest and prayer. And I hope Josiah (and any other future children) will also learn that from me, that they too can go to Jesus in moments of weakness or weariness.
And, I can't finish this interview without asking about your #JosiahTheBrave and his cleft  journey. First, where are you in the correction journey and how is he doing? And, what advice do you have for a mom who has a child born with cleft lip (or any birth deformity)?
Our son Josiah was born with both a cleft lip and a cleft palate. Josiah's cleft lip and right nostril were repaired in October of 2019, and his cleft palate was repaired in October of 2020. At the moment we have a break from surgeries until he is about 7 or 8 years old, however, because a cleft palate can also have an affect on a child's speech, we will now begin early intervention speech therapy. Aside from that, Josiah can continue to enjoy toddlerhood and early childhood like all other children. (He currently LOVES adventuring outside, all things dinosaurs, and wrestling his daddy and grandpas!) I write much more about Jo's cleft journey on my website.
My advice to mamas out there of a child born with any deformity would be to be patient with them and with yourself. Extend grace to them and yourself. (And to your spouse or whoever may be helping you raise your child!) While I am a huge advocate for inclusion of children born with deformities, we as parents must remember this is not the "normal" newborn or childhood or even adolescent experience because despite the average newborn, toddlerhood, childhood, or adolescent things parents have to navigate through, you now have a completely different circumstance to add to the mix.
So give yourself and your child the patience, the grace, and all the love needed to journey through this together, in your own way. Don't allow comparison to rob you of the joy that is very much so also a part of this unique parenting experience. There will be hardship, yes, but also so many joys. You can do this and so can they.
To learn more about Crystal:
Website: www.crystalleewilliams.com
FREE 7-Day Devotional: https://www.crystalleewilliams.com/devotional/
Contact: [email protected]