Today's Meet a Mom is Angie Hines, the mama owner of the brand new floral market and gift shop ~ Meadow to Market Floral and Co. This local mom of 3 opened the doors to Meadow to Market just this past September. The store is located in Montgomery in a beautiful house that is a must see! It has a large front lawn with an old truck ready for photo opps along with a coffee truck, and then indoors is a stunning gift shop, flower bar, gathering room, and more! Meadow to Market is a floral market not a florist – where wild garden bouquets are made rather than floral design. Her shop is full of seasonal decor, accessories, an extensive line of custom paper products and gathering essentials, custom cakes and cupcakes from Kailee's Kakes and Nikki Nicole Delights, and custom charcuteries from Occasionally board. Plus, she is also going to be offering board and bouquet classes soon. This busy mom, who also runs her family's vacation cabin business (Hidden Hills Cabins located in Hochatown Oklahoma), makes this new business fit into her life by including her kids in her business as much as possible. Having her kids behind the counter is exactly what she envisioned!
Keep reading to learn more about Angie, her inspiration behind Meadow to Market, and how she balances it all!
Where are you from originally and how long have you lived in the North Houston area?
Born and raised in Broken Bow OK. I moved to the Houston area in 2005 after graduating from college. I've lived in North Houston since 2010.
How many kiddos do you have and how old are they?
I have three kids! Coleson is 14 and is a freshman at Lake Creek High School. His pasion is baseball.
Caliana is 11 and she is in sixth grade at Oak Hills Jr. High, She is on the Flex Dance Company team and her passion is dance.
Charlee is 6 and is in 1st grade at Keenan elementary school. She is very artistic and also loves dance. She is also on the company team at Flex Dance and fitness.
What are your favorite local things to do? (with kiddos or just for mom!)
We love to visit all the local activities around town. P6 Farms in the fall, First Baptist City of Bethlehem for Christmas, Thursday Sip and Stroll in Downtown Montgomery, Market Street in the Woodlands, and Tomball strolling.
One thing people would be surprised to know about you…

I own another business that I've had for 11 years! Hidden Hills Cabins is a vacation cabin management company located in Hochatown Oklahoma. Co-owner along with my brother, we manage 56 vacation cabins near Broken Bow Lake and Beaver's Bend State Park. We have lots of local customers visit us yearly in Oklahoma. I had a customer come into the Market recently that saw my Hidden Hills card and was so surprised to meet me. She's been staying with us for years and had no idea I live here! Small world.
What's the best mom advice you have ever been given (or your own advice to mamas out there)?
Whenever possible Involve your kids in what you're doing! They'll not only learn life lessons about work and responsibility, but you'll also get to spend more time with them. My kids have been highly involved in Meadow to Market and they're so interested. It's been a fun adventure for them as well!
Tell us about Meadow to Market! When did you open the doors and what do you offer?
We opened on September 11th, 2021.
We offer ready made hand tied bouquets, a flower bar where you can make your own bouquet, a gathering room where you can gather with a few others and make bouquets together. When in season we purchase most of our flowers from local farms like Basecamp Farms out of Navasota. We also have a gift shop offering gifts for everyone, an extensive line of custom paper products and gathering essentials, custom cakes and cupcakes from Kailee's Kakes and Nikki Nicole Delights, and custom charcuteries from Occasionally board. Outside we have Meadow Mining Co. and we're so proud to have a coffee truck now, Wilderlove Coffee!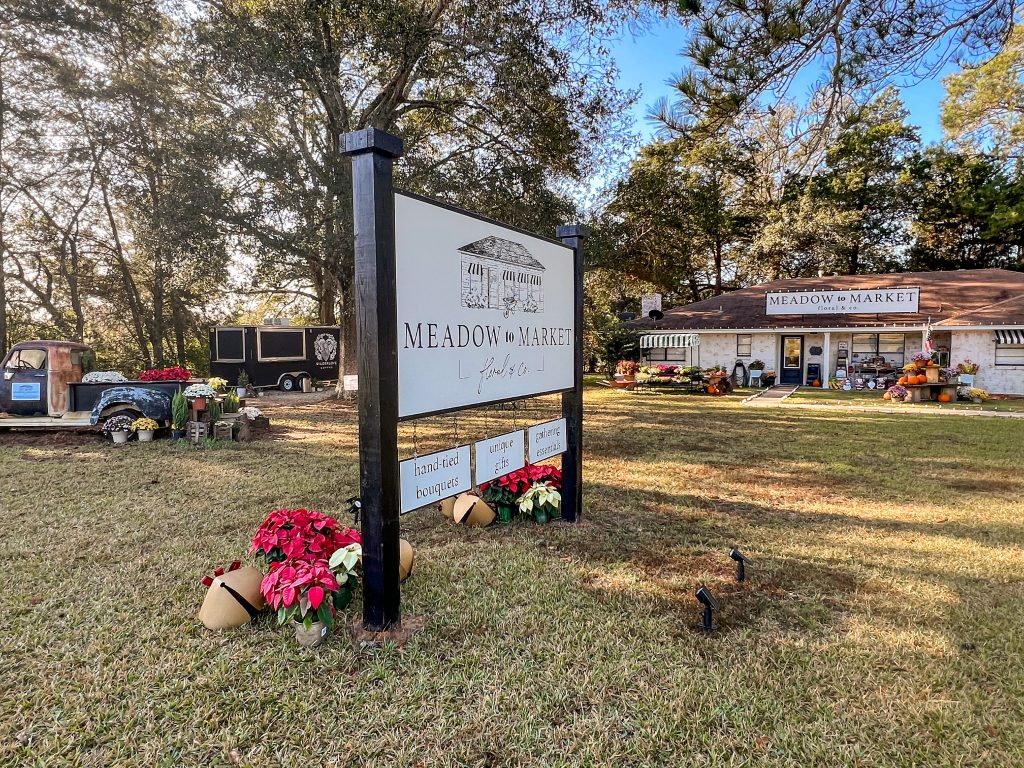 What was the inspiration behind starting Meadow to Market?
I've always had a strong passion for creating floral bouquets and always wanted a gift shop! My main focus was to provide a floral market rather than being a florist because I prefer to make a more garden wild bouquet rather than the design aspect that goes along with being a florist. I also wanted to offer something new and exciting that our area didn't already have. Floral markets are popular in other parts of the world where more flowers are grown but you don't really see them here so I wanted to provide that for our community. I also wanted to provide a place to gather for an experience which is why the dream really started to come to life when I found the house with a huge yard to make our store front.
What did you do before starting your own business (or still do if you still work outside of Meadow to Market)?
I moved to the Houston area in 2005 and started my career as Marketing Manager for a major carpet manufacturer. I went on to be a sales representative for them until taking over the family cabin business, Hidden Hills Cabins, in 2010. I'm still currently doing that business in conjunction with this.
What has been the most rewarding thing about what you do?
Making my customers happy doing what I love to do! I was very nervous about starting this business mainly because I already have a full time job and three kids and a husband with a full time job. It is a lot of work but I love coming to work everyday, I love being here and the challenge is exciting!
How do you balance owning your business and being Mama?
As I mentioned before my kids are very involved with Meadow to Market. Thankfully our store is in a home which I did on purpose so that it would be a place we could all be and be comfortable. It's a landing pad between school and activities. It does get a little crazy in the shop when all three kids are behind the counter but it's exactly what I had envisioned and I'm so happy to have them here with me when they're not busy with activities.
I did have to give up the idea of being room mom and volunteering every spare second I had at the school. That was me for the past 10 years but I have passed that baton in order to make time for this business! I strategically placed my business near all my kids' schools so that I can break away for their activities during the day. I have a great group of employees that make it easy for me to still be an active mom!
What are your future plans and dreams for Meadow to Market?
Everything happened pretty fast as far as what I had envisioned for future growth. I would love to hire a floral designer eventually so that I can take on more weddings and events that I've been asked to do! That wasn't in my original plan but the market seems to be taking me there.
Any event or deals North Houston moms can be on the lookout for?
Any events will be posted on our instagram! We have partnered with Dana at Occasionally board to do board and bouquet classes starting in January. Watch her instagram for dates posted to get your spot. The charcuterie classes Dana is already hosting in our gathering room fill up fast so if interested in board and bouquet follow us both now on instagram to be the first to know when a new date is set.
Also all of our fall decor is now on our clearance shelves at 40% off.
To learn more about Meadow to Market Floral and Co.:
Location: 20823 FM-2854, Montgomery, TX
Website: https://meadowtomarket.com/
Instagram: @meadowtomarket