It's officially FALL, y'all!! The weather is finally getting cooler, all the pumpkin patches are open….AND it's that time of year to be scheduling Fall and even Winter & Christmas pictures. We've got some fan favorites here for you to look through!
The following photographers have different specialties, styles, uniqueness, but they all have one thing in common. And, that's that they're the best at what they do. So, without further adieu, I bring you North Houston Mom's Fall & Winter Photography Guide. All these talented women would love to capture this precious time in your family's life!
I'm Chelsey, a mother to 3 incredible children who helped bring to life a passion that led me to being a motherhood and family photographer based in The Woodlands, Texas. I find so much joy in the magic and intimacy that is Motherhood. Through my work and my process, I develop a genuine connection with my mom's and families so that I am able to capture and help tell their own unique story through timeless, true to color, authentic images. My ultimate goal is to create an enjoyable, stress-free and luxurious experience for my moms while helping capture these fleeting and precious time, because we all know the cliche is true- time goes too fast and babies don't keep! 
Website: www.chelseymartinphotography.com
Instagram: @chelseymartin_photography
Email: [email protected] 
Morris Family Photography is for children, seniors and families who want to capture genuine and authentic emotions of their season of life and family togetherness.  We are unposed and authentic in nature and aim to capture the images that represent exactly who you are with a soft and dreamy aesthetic. Our images are joyful and light hearted.  Your story is unique and we can't wait to help you put it into imagery. We are creative storytellers crafting timeless images worth viewing again and again.
Meet Jenn: I am a Jesus follower, wife, mom of 3 and family photographer who loves capturing the memories and beauty in everyday life.  I serve families in Houston and Montgomery county, including Spring, The Woodlands, Conroe, Houston and Magnolia. Coffee gets me started every day and Jesus keeps me going!
Contact: Jennifer Morris
Studio: 281-536-8990
Website: www.morrisfamilyphotographer.com
Instagram: @morrisfamilyphotographer
Email: [email protected]
Meet Kaylin!
I've been a photographer for twelve years and love creating clean, true color portrait images for my clients. I specialize in editing techniques that help me deliver that perfect family photo. Portrait sessions take place on my farm in Willis, TX where we can enjoy the best lighting of the day in a private and relaxed environment. Shooting on my farm also allows me to offer "anytime mini sessions" perfect for getting the handful of beautiful photos you need for any occasion at my best prices. I also offer branding and event photography for small businesses. See my availability calendar anytime at www.kaylinbooker.com/thefarmstudio and follow me on fb and instagram at @meanwhileinmontgomerycounty
Website: www.kaylinbooker.com/thefarmstudio
Instagram: @meanwhileinmontgomerycounty
Facebook: @meanwhileinmontgomerycounty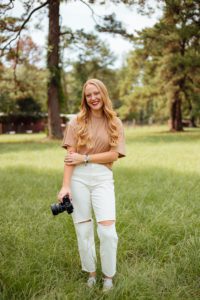 My name is Casey Wilson and capturing love and laughter is my JAM! I specialize in photographing weddings and high-school seniors. My style is true-to-color and authentic. I have a deep desire to create images that capture laughter. I'm not afraid to make a fool of myself so that I get authentic smiles from my clients. In my opinion, there is nothing better than scrolling back through pictures and actually being able to "hear" the moment when you see an image. I truly believe that laughter can cure anything, and I want people to feel those genuine moments of joy every time they see one of my images. My heart belongs to Educators, First Responders, and Veterans. My husband is a Marine and a Firefighter, and I was a High School English Teacher for 8 years before pursuing photography full-time. I have a special discount for those amazing people! When I'm not editing or at a session, you can find me curled up on the couch reading with my husband, my 1 year old son, and my two very needy German Shorthaired Pointers. Some of my favorite things are: coffee, books, Gilmore Girls, wine, and shoes!
Website: www.caseywilsonphotography.com
Instagram: @caseywilson.photo
Email: [email protected]